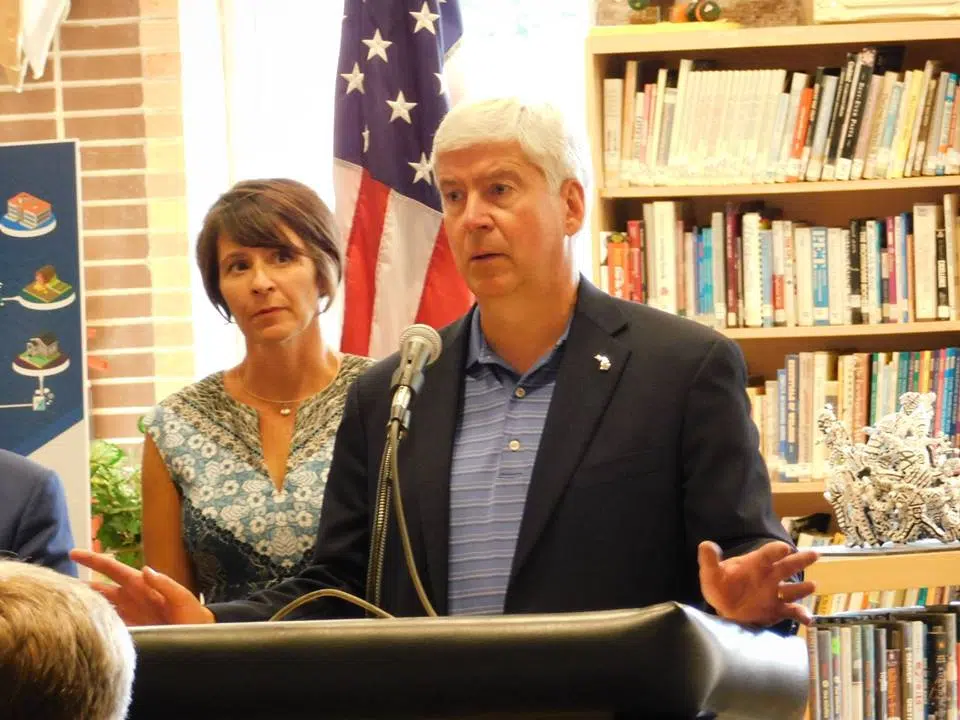 CLICK ABOVE to hear some of the governor's remarks.
The Escanaba High School played host to Governor Rick Snyder Wednesday afternoon.
Snyder toured the school's FIRST Robotics lab and then went to the high school library, where gave remarks about the need to expand Internet access in the Upper Peninsula.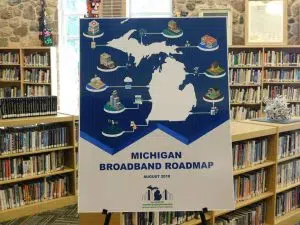 "This is a really important effort," Snyder said. "Being connected to broadband for our smaller communities, I think, is a big part of their future. Because in today's world, you can work anywhere. I think we can actually get our communities to grow again, and have people staying here, and moving here, because of the great quality of life.
"How can you beat being on the lake here (in Escanaba)?," the governor continued. "And enjoying the activities that go on here? You've got to be connected, though. So we need to get this done."
Snyder appeared alongside members of a special commission that came up with the Broadband Roadmap, which discusses ways to expand broadband access around the state by having local communities work together, and private telecom companies also working together.
The governor challenged the state legislature to approve grants to get the ball rolling on these infrastructure upgrades.
State Sen. Tom Casperson (R-Escanaba) and State Rep. Beau LaFave (R-Iron Mountain) were both in attendance on Wednesday, as was Dave Devries, the director of the Michigan Department of Technology, Management and Budget. Devries oversaw the drafting of the report that was outlined during Wednesday's gathering in Escanaba.
The Michigan Broadband Roadmap sets the path for improving access and adoption of broadband throughout the state.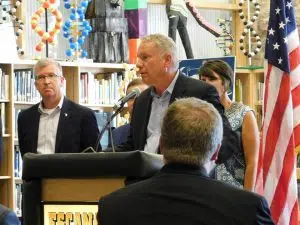 "As technology continues to rapidly change and evolve, having access to fast, reliable internet is now a necessity for everyday life," Snyder said. "There are many regions of Michigan where internet is inaccessible or ineffective, and this plan works to make broadband internet available to Michigan residents in every corner of the state."
Gov. Snyder created the Michigan Consortium of Advanced Networks (MCAN) through Executive Order 2018-2 to solidify a vision for a connected state along with a roadmap to guide the state's goal of ubiquitous broadband access. MCAN gathered input from a diverse group of public and private entities from around the state and held six listening tours to fully understand the needs of Michiganders before creating the comprehensive plan.
"As we traveled the state we heard a clear consensus – Michigan residents need and deserve secure, reliable and affordable broadband," explained MCAN Chairman and Department of Technology, Management and Budget Director Dave DeVries. "The thoughtful contributions made by each of the MCAN members and support staff led to these realistic goals and timelines. The path toward reaching our goals will take time and collaboration from both the public and private sector but is ultimately achievable."
Michigan currently ranks 30th in the nation for broadband availability and more than 350,000 households, in mostly rural areas, do not have access to vital high-speed internet service. Another two million households only have access to a single, terrestrial internet service provider. There is approximately $2.5 billion in potential economic opportunities available for these regions if this gap is closed.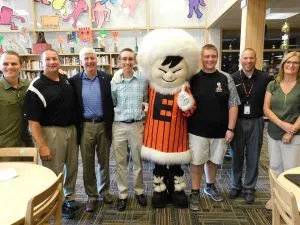 The broadband roadmap identifies three main areas for improvement: 1) Access to Unserved Areas; 2) Increase Broadband Adoption; and 3) Advance Michigan's Broadband Ecosystem.
Recommendations include a call for greater investment in broadband to improve community and economic development, establishing a single point of contact for within state government, promoting and building awareness for low-cost broadband subscription programs, improving the workforce pool for the telecommunications industry, promoting digital literacy, and creating a permanent broadband commission to advise future governors and the legislature.
The creation of MCAN was a recommendation of the 21st Century Infrastructure Commission.
The full Roadmap report is available online atwww.michigan.gov/documents/snyder/MCAN_final_report_629873_7.pdf..
Snyder visits the Upper Peninsula State Fair on Thursday.