The spectacular rugged scenery, isolated Lake Superior shore, and quaint mining towns of northern Michigans Keweenaw Peninsula can make visitors feel like theyve taken a step back in time.
However, with a recent dedication at the Great Lakes Research Center in Houghton, something new is on the way a hub for the development of futuristic, state-of-the-art Smart ship technologies.
The new Marine Autonomy Research Site (MARS) will serve as the worlds first freshwater location for testing unmanned (autonomous) surface and underwater vessels for operation in Great Lakes and U.S. coastal waters.
The dedication drew representatives from Gov. Rick Snyders office, the Conference of Great Lakes and St. Lawrence Governors and Premiers, Great Lakes shipping companies, legislators, the U.S. Coast Guard and Transport Canada, and local dignitaries interested in learning how the site is expected to benefit Great Lakes science, research and industry.
The Michigan Office of the Great Lakes an office within the Michigan Department of Natural Resources that supports efforts to protect, restore and sustain Michigans waters and Great Lakes communities assisted with development of the testing site.
This innovative technology will help researchers develop integrated systems to collect data and inform Great Lakes management decisions, said Jon Allan, director of the Office of the Great Lakes.
The launch ceremony featured a demonstration highlighting advanced autonomous technology on the Portage Canal. A small surface vessel captured the contours of the bottom of the canal (bathymetric profile), and an autonomous buoy was demonstrated capable of maintaining position and moving itself when needed.
Additional unmanned surface and subsurface vehicles were on display.
The MARS project test site will be managed by Michigan Technological University, which plays an integral role in Great Lakes research on lake ecology, fish biology and ecosystem change.
The testing area extends within a 30-mile radius of the universitys waterfront campus, where the Great Lakes Research Center is located.
Shipping will look different in 25 years, largely because of the work done here, said David Naftzger, executive director of the Conference of Great Lakes and St. Lawrence Governors and Premiers.
The area already is served by the universitys high-accuracy, real-time, GPS survey system, its fleet of crewed research vessels and a licensed mariner, along with all U.S. Coast Guard testing requirements for monitoring and verifying vehicle location and performance.
The Coast Guards Duluth-based Marine Safety Unit is working with Michigan Tech MARS researchers on developing interim guidelines and protocols for the unmanned vehicle deployment and testing.
Testing will include the viability of vehicle sensors, anti-collision capabilities, shore monitoring, and vehicle-to-base-station communications.
University researchers envision unmanned surface and underwater vessels being used to augment manned research ships to transport remote-sensing technology, collect sonar and video imagery, deploy under frozen Great Lakes waters to gather winter samples and venture to sites unsafe for humans.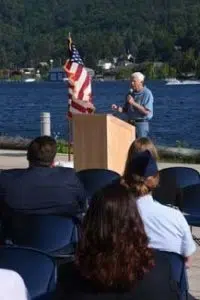 While the types of autonomous vessels to be tested at the MARS site could include larger vessels, they will initially be research- and survey-grade boats and underwater drones less than 33 feet in length overall. Examples of typical, unmanned, survey-grade surface vessels include theASV Global Co-Worker [ https://www.asvglobal.com/product/c-worker-5/ ]and theLiquid Robotics Wave Glider. [ https://www.liquid-robotics.com/wave-glider/overview/ ]
Other testing could involve autonomous underwater vehicles monitoring structures such as pipeline for their integrity, identifying shipwrecks, like those found at the Thunder Bay National Marine Sanctuary and the Keweenaw Underwater Preserve, or mapping bottom substrate and recovering evidence when working with the Michigan State Police.
An example of a typical unmanned underwater vehicle is theOceanServer, IVER3 [ http://iver-auv.com/iver3S.html ].
Regardless of the vessel size or type tested, much of the autonomous technology, such as anti-collision software, sensors and sensor fusion is expected to be similar and applicable to a wide spectrum of unmanned vessels and vehicles.
Therefore, the lessons learned will be transferrable to others who want the knowledge.
This center put us on the cutting edge, said U.S. Rep. Jack Bergman. And if youre not on the cutting edge, youre behind.
In its 2017 Michigan State of the Great Lakes Report [ https://www.michigan.gov/documents/deq/2017_State_of_the_Great_Lakes_Report_Michigan_OGL_609330_7.pdf ], the Office of the Great Lakes published an article noting that, scientists in the upper Great Lakes, and Lake Superior in particular, currently lack the capabilities for real-time science observations during early- and late-winter periods, a large and critical portion of the annual thermal cycle.
Samples usually are collected by scientists in small watercraft, but Lake Superiors harsh winters and ice can make research both difficult and dangerous. Unmanned vehicles can help close a significant gap in knowledge and reduce the costs of human-led expeditions.
The dedication is a key victory for the newly-formed Smart Ships Coalition [ http://www.smartshipscoalition.org/ ] of the Great Lakes and St. Lawrence. The coalition, established by resolution of the governors and premiers of the Great Lakes St. Lawrence in October 2017, is the regions group for those involved in research, commercialization activities, workforce development, and regulatory matters pertaining to maritime autonomy and related automation technologies.
The coalition unites scientists, policy makers, resource managers, innovators, navigators and educators who share a common interest in the advancement and application of autonomous technologies operated in marine environments.
The organizations web page notes that in marine applications the state of adoption for autonomous technologies is lagging that of air and ground operations.
The Smart ships Coalition plans to bring marine technology up to speed.
(Michigan DNR Photos)