The Chocolay Township police are asking for your assistance in locating items stolen from the Rescue Stations on M28. Recently several pieces of water rescue equipment were stolen from the rescue stations located at the first and second turnouts on M28.
This equipment includes a Rescue throw ring. This ring is orange and white and color and should be marked Property of CTFD in black paint.  Also stolen were two water rescue Cans. These too are marked with Property of CTFD.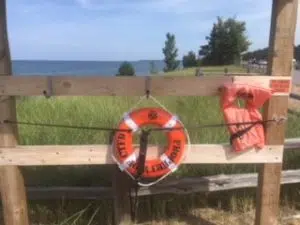 This equipment is provided by the Chocolay Township Fire Department. The Fire Department provided this equipment in the hopes it will be available when needed to save people. When the equipment is stolen it takes time and money to replace. This also prevents the equipment from being used when needed.
A $100 reward is being offered for any information that leads to the arrest and prosecution of the individual that had taken any of these items.