LISTEN TO COMMENTS FROM GOP CANDIDATE BILL SCHUETTE
Republican gubernatorial nominee Bill Schuette made a direct appeal to Upper Peninsula voters on Tuesday, making an Election Day appearance in Marquette.
Schuette met with supporters at the GOP office on Washington Street in a rare Election Day appearance by a top-of-the-ticket candidate in the U-P. It marked the second time that Schuette made his way to the U.P., after also appearing at an event in Escanaba last Thursday.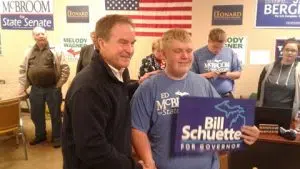 "The U.P. vote is very important," Schuette told the Radio Results Network on Tuesday. "On the issues of jobs and the economy. I want to make sure we grow our economy and that Michigan is a 'growth state', a 'paycheck state', and a 'job state'."
He went on to describe Democratic nominee Gretchen Whittmer's economic policies as "dangerous". He also attacked Whittmer as being soft on immigration, saying that she would support so-called sanctuary cities for illegal immigrants in Michigan.
Whittmer, for her part, tried to visit Marquette two weeks ago, but her plane hit a flock of birds as it left Detroit. She did not reschedule that appearance.
The polls are open until 8:00 tonight, and then results will be posted as they become available on radioresultsnetwork.com.