Artists from across the Upper Peninsula displayed their art at the world's largest art competition – ArtPrize, which just wrapped up in Grand Rapids on Oct. 7. Several of the artists sold their art at this world-renowned competition.
Three of these U.P. artists, Natalia Wohletz of Mackinac Island; Kathryn Lund Johnson of Munising; and Paul Rose of Garden, feel that selling their artwork at ArtPrize has been gratifying.
According to one of the organizers, Pasqua Warstler, Bonifas Arts Center Gallery and Regional Projects Director, an international art competition like ArtPrize gives artists excellent visibility, driving potential sales. This visibility gives artists the opportunity to connect with others in the industry—connections that may lead to other exhibits, lectures and commissions.
"ArtPrize artists from the U.P. have the opportunity to make incredible connections at the event. The U.P. has a vibrant art scene that attracts artists from throughout the country for its natural beauty and isolation, but the region's vastness also makes it difficult to gain recognition," Warstler explained. "ArtPrize is a great opportunity for those artists to be seen and get connected to others."
Natalia Wohletz of Mackinac Island, one of the artists who sold her art at ArtPrize 10, also recently made the decision to make her art her full-time business.
"I took the leap to becoming a full-time artist this past spring and it has been a very scary, but rewarding ride. It is an amazing feeling to wake up and know that I am going to spend the whole day doing what I love," she smiled. "I split my time between two businesses: Mackinac Memories, a book-publishing business showcasing life on Mackinac Island that I run with my mom, Jennifer Wohletz, and Peninsula Prints, which I launched in July and is focused solely on my artwork."
Wohletz is thankful the exposure she has received at ArtPrize, and for the assistance from the Bonifas Arts Center in helping her bridge her art into a full-time business. "Working with the Bonifas and participating in ArtPrize has given me a new, exciting avenue to share and promote my art.
"I am extremely grateful for the exposure my work has received through ArtPrize, which has proven to be phenomenal for my business and me," Wohletz continued. "I am thrilled that one of the pieces in my series, "Pine View," sold through ArtPrize channels. In addition, a "Lady Slipper Pair" print (another print in the series) sold via Etsy after a St. Ignace couple saw it in Grand Rapids. Most exciting is the commissioned work I am doing for the Michigan Supreme Court after they saw my work in an ArtPrize-related article printed in the Petoskey News."
Her piece that sold was part of a series entitled "Block Print Series of Mackinac Island," a collection representing a series of Mackinac Island scenes, which she frequently draws.
Wohletz's linoleum block prints are original, limited edition designs based on her drawings of iconic and tucked-away scenes of Michigan, especially those found on Mackinac Island.
"When I was first introduced to block printing, I was instantly drawn to the beautiful texture created with the carving tools," she said. "It's both challenging and exciting to carve away the negative space in an image and create the intricate details that make each design unique.
"As an artist, I especially enjoy printmaking because it challenges me to approach my work from multiple perspectives at once," she continued. "Working in both the positive and negative spaces, I delight in experimenting with different carving tools to create interesting textures and bold patterns. My block print designs reflect scenes that convey the tone of a special feeling or memory, ranging from the serene view in Beach Lookout, to the sense of exhilarating adventure in "30 Degrees", to the strength of "Grand Hotel #2".
Wohletz is co-founder of Mackinac Memories, LLC, (www.mackinacislandmemories.com), which sells books along with Natalia's photos and block prints. Her art is currently available at Mackinac's Little Gallery on Mackinac Island, The Art Shop in Highland, MI, and online at www.peninsula-prints.com.
_________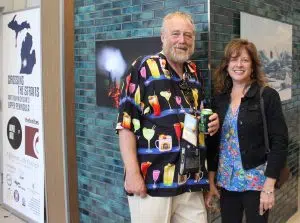 Paul Rose of Garden is another artist who sold his work at ArtPrize 10. Rose sold his photograph, "Manifestations of my Dreams," depicting him near a campfire under the stars, in his words, "absorbing all the universe has to say."
Rose said he's thrilled that his artwork sold at ArtPrize. "I think it's a great thing," he smiled. "I'm trying to be a lot more creative with my photography, and visually pushing the limits. My photography allows for interaction between other elements, instead of just aiming the camera and pushing the button."
Rose also sold his piece entitled "Winter Storage" two years ago at ArtPrize 8, which was his first year displaying at ArtPrize. "Winter Storage" is a black and white photograph showing a wooden boat stored away for the winter.
Rose is known for his photos of boats. In particular, he owns a collection of old wood Thompson rowboats that he often photographs.
"People gravitate toward remembering their experience of being in a boat with their dad or grandparent. I find there is a particular emotional attachment with canoes." (Paul's ArtPrize 10 entry, "Manifestations of my Dreams" depicts a canoe and paddles near the campfire.)
An experienced photographer, Rose finds that ArtPrize provides him with a whole new venue in which to sell his work.
"It [ArtPrize] is another avenue to promote my work and let people enjoy what I'm doing creatively. I really try to visually make creative images so that there is interaction between the pieces.
"I had to experiment with what sells and what doesn't sell," he continued. "I found that if my artwork has an emotional attachment with the viewer, chances are I'm going to sell it. All of my pieces that sell have a unique emotional attachment to the viewer. It's almost magical."
Originally from the Detroit area, Rose has been photographing since 1971. He worked for the auto industry staging auto shows, eventually leaving the business world in 1997. He then moved to the U.P. to work as a photographer.
Now, Rose describes himself as a "full-time retired artist."
"I can get up in the morning and decide what I want to do, not what someone else wants me to do," he smiled.
Rose's photography can be seen in galleries in Michigan, including Up-Scale Art Gallery in Munising and also galleries in the Southwest. His photographs hang in many private collections, and he has been the recipient of many awards. In 2016, he received a third place prize in PhotoSpiva in Joplin, MO, the oldest running photo competition in the United States.
His images have also won awards at the Crooked Tree Art Center, the Bonifas Membership Show, and the nationally recognized photography magazine, PDN, and were chosen to adorn the newly remodeled Case Hall at Michigan State University. Also, his boat series of photos were on display in the Marquette Boat House two summers ago.
_____________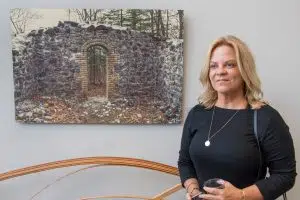 Kathryn Lund Johnson, photographer and nature writer from Munising, also sold one of her pieces at ArtPrize 10. As an artist and entrepreneur, she understands how to make the two work together cohesively, and says selling her work at ArtPrize has been rewarding. "First, I felt so honored having my work accepted into ArtPrize 10. Then, to have sold it during Preview Week was deeply gratifying."
Like Paul Rose, Kathryn says she finds that the photographs that connect emotionally with the viewers are the ones that are often the best sellers.
"It's always my hope that my images will move the viewer emotionally, just as the subjects have moved me as I captured them with my camera."
Kathryn sold her photograph, entitled "Our Heritage – Central Mine Powder House Remains", depicting the remains from inside the powder house in the U.P. town of Central, which ultimately became a ghost town. (Copper mining began at this location in 1856.) The powder house, which is where the explosives were stored, was located a safe distance from the mine and town.
"My editing of the images comes from the heart as well. In the case of my ArtPrize image, 'Our Heritage ~ Central Mine Powder House Remains,' I attempted to show the solitary starkness of the remaining walls in contrast with what the building probably looked like when the town was a bustling mining community. To know that the buyer must have felt a similar emotion is the ultimate compliment I could receive."
Johnson's photos and articles have been published in "The American Gardener," a publication of the American Horticultural Society; and in "Northern Woodlands", the magazine of the Center for Northern Woodland Education. Her photographs can be seen and purchased online at www.kljnaturephotos.com, and on her Facebook page: 'Superior Inspirations by Kathryn Lund Johnson.'
In addition to these websites, her work is available at several shops in Munising, including UP~Scale Art, the Falling Rock Café and Bookstore, Open Wings Pottery and Gallery, and the Pictured Rocks Interpretive Center.
ArtPrize is an open international art competition decided by public vote and expert jury that takes place every other fall in a number of venues throughout Grand Rapids. Two $200,000 grand prizes and eight category awards – more than $500,000 in total – are awarded, half decided by public vote and half decided by a jury of art experts. Art entries from all over the world cover three square miles of downtown Grand Rapids – and it's all free and open to the public. The art was viewed by approximately 400,000 visitors, giving the message that the U.P. is a unique arts and culture destination.
To read about the U.P. artists who exhibited at ArtPrize, or for more information on upcoming Bonifas exhibits, visit http://www.bonifasarts.org,. For more information on ArtPrize 10, visit www.artprize.org.