WATCH VIDEO OF OPENING PRAYER HERE 
Turkey with all the fixings, along with a whole bunch of fellowship. That's what was on the menu Thursday at the Escanaba High School Commons as the Community Thanksgiving Dinner was held for a 39th straight year. Hundreds of people turned out for the sit-down style dinner, and hundreds more were delivered meals in their homes.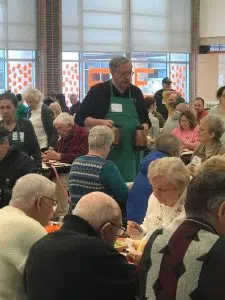 "You run into people you know, and everybody is happy," said Rena Richtig, who helped to run the event this year. "There's no perameters on who can come and who can eat, and it's just a 'come and please enjoy'. And hopefully, enjoy the socialization as well. We encourage the socialization, which we think is really important, especially for people who live alone."
"It's a great event," Escanaba Public Safety Lieutenant John Gudwer said. "It's a great thing in our community. It just shows what kind of community we live in, with local businesses and people donate, monetarily for this food. And then all the volunteers that make this happen."
Maggie Tall helped to start this event 39 years ago. She gave the opening prayer, as usual, and praised the young people who were helping with the event.
"I would like all of you to take note of all of the youth that we have here, and all of the good," Tall said. "You don't hear about that in the paper. This year, we've probably had over 200 kids, helping, doing things for you, and things for God. They aren't in trouble. God's watching over them, and us, and let's thank Him for that."