Did you know a small experimental research forest lies within Hiawatha National Forest?
Since the 1920s, US Forest Service (USFS) researchers have been perfecting northern hardwoods management techniques based on experiments conducted within the Dukes Experimental Forest.
"Silviculture is the art and science of controlling the establishment, growth, composition, health, and quality of forests and woodlands to meet the diverse needs and values of landowners and society on a sustainable basis," said Christel Kern, the Dukes forest's lead research forester, who is stationed with the USFS's Northern Research Station in Rhinelander, WI.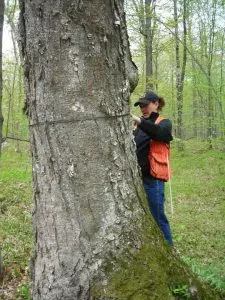 Located in the northwest corner of the Hiawatha near Skandia, Michigan, Dukes is managed cooperatively by the Northern Research Station and Hiawatha National Forest. Researchers propose the research actions, and national forest staff assist with data gathering, conduct environmental analysis, and oversee implementation of vegetation treatments (such as brush clearing, culling of certain trees, etc).
In preparation for the next round of research at Dukes, Kern and Hiawatha's acting zone silviculturist, Doug Sippl, must coordinate field data gathering. They enlisted forestry technician Tara Ward, forester Steve Jastrzemski, and other Munising Ranger District staff will "remonument" the research plots in the cutting methods study areas. In the field, Ward and Jastrzemski locate and mark the research plot centers and corners. Then they GPS all the plot points. Finally, they will measure the density of each stand of trees.
Meanwhile, Kern and Sippl are reviewing historical data to summarize the treatment history for each stand. In the next few months, Kern will compile old and new data to devise silvicultural treatment options and identify an optimal research proposal. Those proposed actions for the next round of management in Dukes — the oldest experimental forest in the USFS's eastern region — will be considered in an upcoming Hiawatha environmental analysis.
Why is this research important?
According to Kern, "I have the fortunate opportunity to study decades of silvicultural research from earlier scientists to evaluate impacts on complex issues such as forest sustainability and ecosystem integrity. These research results will provide information and tools to adapt silvicultural systems to the changing needs of the future."
Research conducted at Dukes allows foresters in the Lake States to sustainably manage northern hardwoods as conditions change over time. The cutting methods study at Dukes Experimental Forest is the longest-running Silviculture study in the world for the northern hardwoods forest type. Hiawatha National Forest staff are proud to play a cutting edge role in the continued advancement of hardwood management techniques.